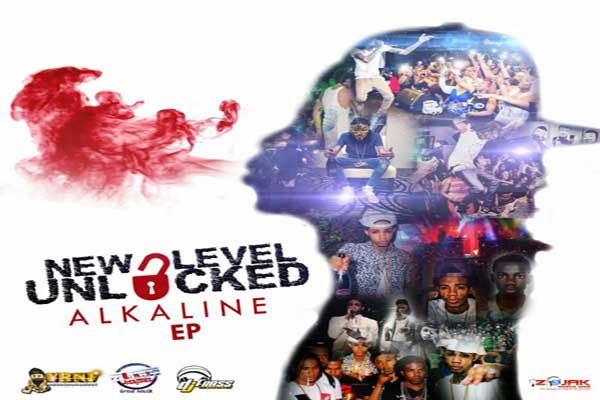 Alkaline is one of dancehall's most talked about artist right now with his eccentric style, lyrical versatility, melodic ability, and controversy.
The young Jamaican dancehall artist is set to release his highly anticipated debut album, titled 'New Level Unlocked' March 25th.
Alkaline unlocked one of the main single of his new album, City, which is alleged Vybz Kartel & Popcaan diss.
Listen to Alkaline New Song – City – From Upcoming Album New Level Unlocked
Alkaline, who emerged on the scene in 2013, quickly climbed the international scene as he emerged shattering the dancehall 'norm'. His melodic play on words caused lovers of dancehall and hip hop to gravitate to his music.




With his rock star image, long hair and eclectic musical ability, Alkaline definitely made a name for himself in the past three years. Known for bending the rules and taking chances Alkaline is definitely a trendsetter in his own right,overall for the youngest.

The title 'New Level Unlocked' defines the musical maturity and career growth Alkaline has attained in such a short time.


"We wanted to showcase the maturity of Alkaline and highlight his ability to play with melodies on this album. Giving the fans another side of Alkaline but also presenting the Alkaline they love was the focus during the production of 'New Level Unlocked' says producer DJ Frass.
Produced by DJ Frass and distributed by Zojak World Wide, 'New Level Unlocked' is set to release Friday March 25th. The 15-track album, which started out as an EP features some of Alkaline's hottest tracks in the dancehall like "Champion Boy", "Try Again" and "ATM".
Watch Alkaline – Champion Boy – Official Music Video
Currently available for pre-order on iTunes, buyers will receive the brand new single "Conquer the World" as an instant grat track.
Conquer the World is currently gaining a lot of traction by DJs and dancehall music lovers worldwide.
ALKALINE DEBUT ALBUM – NEW LEVEL UNLOCKED TRACK LIST
click here for tracklist
1 

ALKALINE 

Conquer The World

2 

ALKALINE 

City

3

ALKALINE 

Wait Yuh Turn

4

ALKALINE 

Champion Boy

5

ALKALINE 

Told U I Was Right

6

ALKALINE 

Like Me (feat. Bobby V)

7

ALKALINE 

One More Time

8

ALKALINE 

Side Chick

9

ALKALINE 

Direction

10

ALKALINE 

Tom Taam

11

ALKALINE 

Somebody Great

12

ALKALINE 

One Life

13

ALKALINE 

Try Again

14

ALKALINE 

ATM

15

ALKALINE 

Outro
Alkaline melodically highlights some of the hard lessons learned in life and the achievements he attained despite being under estimated.
Alkaline Album starts off with a recording of a young Alkaline (Earlan Bartley) introducing himself on a local TV School Quiz Challenge stating his name and that he will become a doctor. Even though he is not a doctor today, he definitely set out from an early age to 'Conquer the World'


"New Level Unlocked for me is just taking everything you've experienced in life as a lesson and using that lesson learned as motivation to go harder and to be better. As long as you're alive there are levels to be unlocked; places you've never been, things you've never seen. The goal is not necessarily to attain but rather to maintain always moving up never get complacent or washed up" says Alkaline.
This album is packed with hardcore rhymes, killer hooks, and represents an Alkaline the masses will be able to relate to. Alkaline is dj-ing about life experiences, life lessons and unlocking new levels in life.
real deal