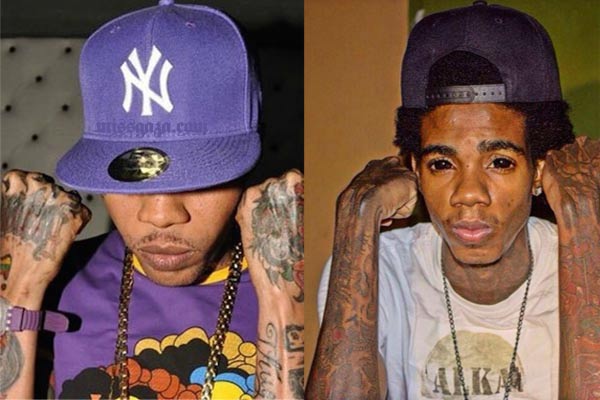 So it happened that Jamaican artist Alkaline and his ghost writer/ friend Kasanova have been reasoning out loud on several topics, but mainly about jailed Gaza General Vybz Kartel. The back and forth of their chat allegedly leaked on youtube.
Vybz Kartel fans have always been accusing Alkaline to be a Kartel's copycat. It was just toward the end of last year that Jamaican dancehall artist Alkaline shocked his fans when a photo of the young artist emerged on social media site Instagram, portraying Alkaline, real name Earlan Bartley, without his signature black inked eye. He admitted then that he never really inked his eyes, but he did wear some contact eye lens, and while some of his young fans are still recovering from that, the voice note just leaked.
During the years a lot of people pointed out clearly that was Vybz Kartel's the main influence behind Alkaline's flow and looks. Alkaline, well.. he always denied it and never admit or own the fact that he wanted to be like Addi, in many different interviews when asked about the obvious indirect influence Kartel's music had on his own. 
Based on the voice notes not just Alkaline is a big Vybz Kartel's fan and not immune to his influence in his own music, but everything that Alkaline has been doing so far has been inspired by trying to copy and go against Addi in attempt to overthrow World Boss influence on dancehall music, while Worldboss is incarcerated. In the process he grew arrogant toward Addi and his fans with diss songs always aimed against Gaza General.
There are many songs where, allegedly also Kartel, seems to take jabs at Alkaline like Fix Up (skeleton stop trying to clone), Don't Play around with Fiyah (you couldn t never  have anything in your mind), Chain, and more.
Listen to an explosive Dancehall Mix posted below featuring all the alleged dancehall diss songs between the two top selling Jamaican artists in dancehall music Alkaline & Kartel.
Vybz Kartel Vs Alkaline || Diss Songs Mix || 2015 Dancehall Mix
Well surely Alkaline represents a part of the future of dancehall music but he can never forget Vybz Kartel represents the past, the present and the future.STILL.
WHICH IS BASICALLY WHAT HIS OWN FRIEND KASANOVA TRIED TO EXPLAIN HIM IN THE RECORDING BELOW. STOP GOING AGAINST KARTEL. 
"Alkaline" Voicenotes with former Song Writer Now Recording Artist Kasanova
IN CLOSING, QUOTED BELOW SOME LYRICS FROM A KARTEL'S SONG FROM 2014.
VYBZ KARTEL MAKE DI STAR SHINE – LYRICS, – CLICK HERE FOR FULL LYRICS & LISTEN TO  MAKE DI STAR SHINE SONG
Wi no kill champion, wi build champion
Calabar, Wampton
Yo too badmind fi the star line
Yo fi proud a the star yow meck the star shine
Whole a unuh waan get in a the star mind
Anyweh yo si the teacher mi have a star 9
You never waan si a youth rise
But a action a dweet while dem a use noise


Play wid the Gaza that wouldn't too wise
real deal