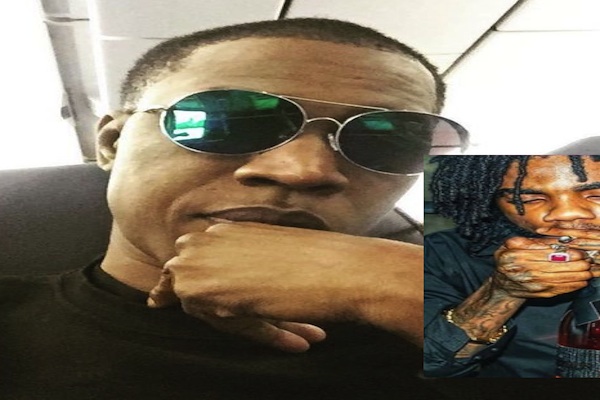 Incarcerated Jamaican World Boss Vybz Kartel has been explicitly going after Vendetta deejay Alkaline, trolling him on social media for dissing Tony Matterhorn for reasons that went down in South Florida's Fort Lauderdale Club Euro this past week-end.
Last fridays was Alkaline's Earth Strong and the young Jamaican artist celebrated it with a birthday bash at Club Euro where hundreds of Alkaline's fans turned up for the celebration and popular Tony Matterhorn, a veteran sound system selector and recording artist as well as producer, was in charge of the sounds.
At a point during the party Alkaline and some of his people stepped up on stage toward Tony Matterhorn. After playing for several hours Alkaline's music and his allies, Matterhorn started playing also songs from Popcaan, Tommy Lee Sparta and finally Vybz Kartel.
Alkaline and his people totally lost it, the "Impact" deejay became upset making his way upon the stage where he went to Tony Matterhorn and called him to his face "a pu**y for doing so".
Tony Matterhorn kept it royal when confronted by Alkaline and his entourage because things could have been escalated to another level from both sides, and the headlines will be different today if he didn't manage the situation that way, being an adult and letting things cool instead than starting a fight at the club that could have ended up much more tragically for the artists and the thousands of patrons that went there to party and have a great night. On top of that was not Matterhorn that played the Kartel's tune but Dutty Dex
Tony Matterhorn's commented :
When you reach my age you try tone down certain things," "You understand because remember say unnu know say me is a sick blood**** individual, and you know Alkaline and him friends them can't diss Matterhorn… It's all about the music and the music is bigger than any one of us. So me do the better thing and be the bigger man." Adding "Alkaline just make himself look bad, me no look bad, you make yourself look like you have a problem with Vybz Kartel,"
Check out Matterhorn's own words in the video below.
Tony Matterhorn Explains why he didn't 'DISS' back Alkaline
Once the 1 Don of Dancehall music Vybz Kartel was informed of the events, he had since sound off on Instagram about it. Kartel that now as a new aka Exiled Pharaoh, went on his social media account, that recently has been buzzing with new photos of the superstar growing rasta dreads  in jail, wrote simply 
"WHAT'S A PARTY WITHOUT VYBZKARTEL MUSIC?? DWBCL," Kartel
wrote in his IG , adding
"How does it feel being labelled a photo copy artiste? Guess i'll never know, dwfl. So Boring At The Top…Yawn"
Alkaline

has been, since his debut in dancehall music few years ago, accused by Vybz Kartel's fans of being a copy cat of the incarcerated World Boss, copying his look, his lyrics, his style and music. His own former ghost writer

Kasanova accused him of so in detail, you can still read the full story here,

as you may want to check out this post about Alkaline's never admitting of being a big Kartel's fan
.
Alkaline should have be more in check and not get mad if any other artist's music plays instead than getting all worked out on his birthday and risking to escalating the situation putting his and other people's life at risk. Big Up Tony Matterhorn for being the bigger man!
real deal