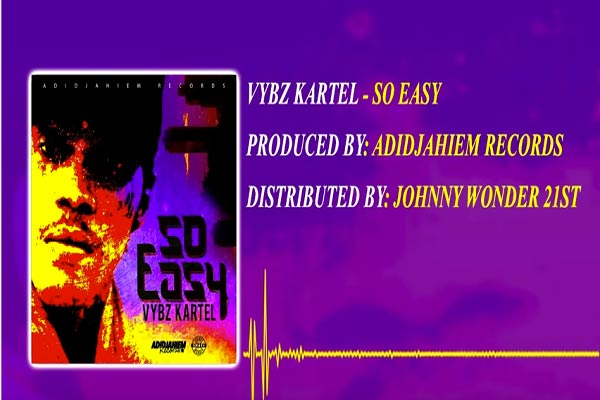 Listen to a new hypnotic hit bound single from incarcerated dancehall star Vybz Kartel titled So Easy.
Produced by Kartel's own imprinting Adidjahiem Records and distributed by Johnny Wonder, the new single from the Jamaican Gaza superstar, is a delicate and catchy love song.
Being the most consistent artist in Dancehall, Vybz Kartel drops another song for the ladies with talks of love. Distributed by J WONDER Digital Distribution, the single is now available on all digital outlets including iTunes and you can get it clicking on the banner on this page.
So Easy is hot like fire, there is a verse where Addi deejays about other artists copying his style, that goes "Every man in a me style a so the p**** them stay," some Kartel's fans saw a new diss to Alkaline, because, as Kasanova said here, he has been studying Kartel's since the beginning.
Vybz Kartel's fans were waiting for new music by the incarcerated iconic dancehall star and Gaza General has not one, but two fresh new reggae dancehall songs out right now, So Easy and also a new dope collaboration with Jamaican female star Ishwana, that you can listen clicking here.
Being behind bars since his arrest at the end of September 2011 did not stop World Boss popularity that  grew way beyond Jamaica and making his name a household and a constant fixture in Jamaican dancehall music for fmore than 10 years now, a constant fixture in Top 10 Jamaican music charts, in the dancehall yaads, in clubs all over the world, on djs mixtapes, with international artists sampling his songs like Ovo's artist PartyNextDoor Notnice that went certified gold, or in the latest Busta Rhymes island single featuring Vybz Kartel and Tory Lanez titled Girlfriend that you can listen clicking here.
Before mining gold and going mainstream once again with Busta Rhymes,Vybz Kartel's Fever started climbing the R&B Bilboard charting 34th with the massive hit from his latest album King Of The Dancehall, that also got remixed by Diplo, listen to it here.


Vybz Kartel So Easy is a new timeless melodic love tune that will please Kartel's old and new fans, a sweet love song that keeps it clean and will make it So Easy for the incarcerated Jamaican ace to gain new fans.
Vybz Kartel will appear again before the court in Jamaica at the beginning of the next year to appeal the 35 years sentence of life in prison without parole for the murder of Clive Lizard Williams. After being sentenced with 4 co-accused in 2014 Vybz Kartel always proclaimed his innocence supported by fans all over the world that have been screaming #free world boss without ever abandoning their idol.Listen to Vybz Kartel's new song So Easy below.


LISTEN TO VYBZ KARTEL NEW LOVE SONG SO EASY – ADIDJAHIEM RECORDS [OFFICIAL AUDIO] AUGUST 2017

real deal