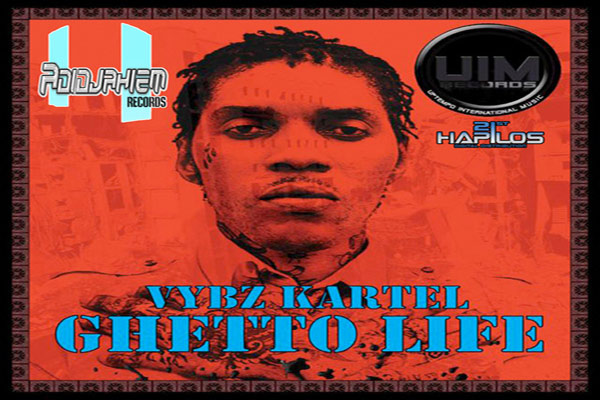 There's now a new official video for one of

Vybz Kartel

's recent hit single Ghetto Life – produced by UIM Records.
The song was released back in March, and even if Kartel is not in the clip because still incarcerated, the video is quickly going viral.
Vybz Kartel

's over a year absence from the scene didn't affect his popularity

"inna dancehall"

or the devotion his fans still have for their artist and there's always a lot of talking and writing about him and what he created, with all the talents he discovered and launched, like

Popcaan

and

Tommy Lee Sparta,
currently

 blowing up.

A lot of buzz is also generated every time a new Vybz Kartel's song get released since his incarceration. The rumors about him recording inna jail are still circulating without a break.
Vybz kartel's – Ghetto Life- is one of the biggest tunes of 2012 from Vybz Kartel and you can get it on i-Tunes, cliking on the banner on this page.
WATCH – VYBZ KARTEL – GHETTO LIFE – U.I.M RECORDS -OFFICIAL VIDEO
Some of the reasons why people insists with the rumors are the very latest singles that came out in the past weeks like
To shout down the rumors once and for all about Vybz Kartel recording material in jail was Jamaica's prison Boss himself, Lieutenant Colonel Sean Prendergast, that also re-marked again the Teacha is not legally allowed to record songs while in custody and waiting trial on his alleged charges.
Mr. Prendergast is  the commissioner of corrections and chief executive officer of the Department of Correctional Services (DCS),  and he was quoted sayng
 "It would have been a serious breach to allow it to happen without my knowledge. Put it this way, I wouldn't have authorized it,"
said Prendergast.
"As far as I know, he has not been allowed to record music while he is at Horizon (Adult Remand Centre). His producers were denying it was done on the inside. They said it was recorded after his first brush with the law,"
added Prendergast.
[you can read some implicit props into this: Vybz Kartel is always up to the minute even for the official sources. Daaamn!].
Prendergast added that any request seeking for the artist to record songs from behind bars would be denied.
Kartel has been in custody since October 1 last year when he and four other persons were arrested initially for possession of ganja…
Since his arrest, the release of new songs such as – Back to Life, in which he speaks of life behind bars and mentions missing his Benz car which he bought only months before going to prison, have sparkled speculations that theWorld Boss is getting special privileges behind bars.
Listen to Vybz Kartel Song – Ghetto Life



It was until the official Adijahiem Records statement that the rumors were dismissed for a minute with the latest producers of the song – Back To Life, saying everything was previous recording material from 2011.
One of  the producers, Elvis Redwood, was adamant that no special recording privileges were being given to

Kartel.
"The Busta Rhymes collaboration with Vybz Kartel was recorded in 2010 by Don Corleon. It was a live recording on Ustream, so they can check that. When artists record songs, they have to choose the right time to release them and Vybz Kartel has a lot of unreleased songs,"
said Redwood at the time.
"Back To Life was recorded in 2010 under the title We Wah Guh Home, but it was never released. We changed the name, fix up some little things, and just call it Back To Life. It's a prison song about his experience in jail, it was just another jail song."

"He has a lot of jail songs but because of the current situation, people are making assumptions … but we just want to make it clear that Vybz Kartel has not recorded any material since his incarceration," Redwood told time ago in an interview with Jamaican Star.
Watch Vybz Kartel feat. Sheba – Benz Punany & You and Him Deh Official Video
Also Mr Prendergast has already made it clear that if evidence comes across his desk suggesting that the songs are being recorded from the Horizon Adult Remand Centre, he would launch an investigation into the matter.
"If I suspected there was a breach, it would be thoroughly investigated and the appropriate action taken,"
warned
Prendergast.
The commissioner of corrections explained that he has turned down requests for other entertainers to do songs while incarcerated. However, he pointed out that there is a recording studio at the Tower Street Adult Correctional Centre, which forms part of that institution's rehabilitation offering. That was how Jamaican reggae singer Jah Cure was able to record songs while incarcerated.
The latest news are that Vybz Kartel has been reading a lot and writing a lot of new songs too, while held at the Horizon Adult Center, his legal team, that visits him once a month, revealed few days ago,that the artist is in good spirit and optimistic he will overcome this and he is all also well involved and aware of everything that is going on with his case.
Innocent or guilty… what everybody knows is that his music is here to stay.
LISTEN TO VYBZ KARTEL SONG – REAL FRIEND
real deal