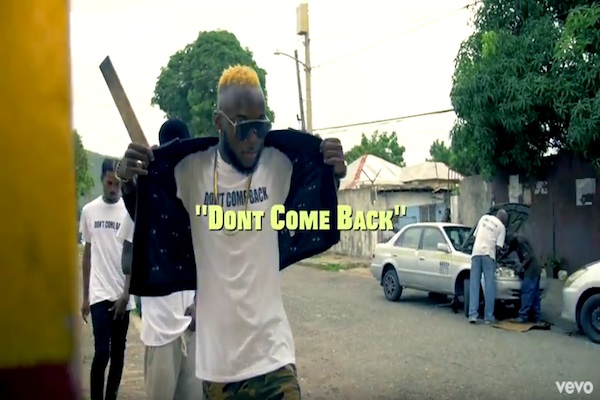 Incarcerated World Boss Vybz Kartel dropped two new music videos in one day, as well anticipated to all his Gaza Nation Fans last week, one music video for his nuclear dancehall anthem Mhm Hm, that you can watch here, and one for the Don't Come back single, you can still

click here for the song's audio posted with full lyrics.
The music video for Vybz Kartel new single Don't Come Back has already ranked up some serious views, after only few hours that it dropped.
Published under his own new imprinting label Vybz Kartel Musik, Don't Come Back generated all sort of speculations on the web when it dropped ,as to whom it may referred to, with Shorty being named in the song and called out. The song dropped shortly after photos of Vybz Kartel's Family Day where shared on Kartel's IG account where Kartel took photos with his daughter instead than Shorty and their sons this year, sparking all sort of reactions in his fans, worried that Addi may have parted ways with his long time baby mother.
In his new banger, Vybz Kartel calls, rightfully so, himseLf THE 1 DON OF JAMAICAN DANCEHALL MUSIC.
Before jumping to conclusion fans should consider that the song could have been a previous recording dropped just in time to generate this type of controversy, but since it has been also published under a brand new music label, Vybz Kartel Musik, it sparked even more speculations about Shorty and Kartel parting ways.
In the new music video a young man with tattoos that could resemble a young Addi is seen dealing with a gayl and counting money while Kartel's song runs in the background and the main scenes are for a crew of amazing street dancers and their choreography to the new hit song. The message of the whole song remarked by the video is it's easy to find girls when you have a stash of dollars in your hands, harder when you broke.
While relationship can end and get spoiled Vybz Kartel has many many beautiful songs dedicated to Shorty where he tells their story and remembers also to his fans that she sticked with him iduring the good and the bad times, like in Without Money, listen here.
Enjoy the video below for Vybz Kartel's Don't Come Back, without assuming too much out of it because while there may be a different story behind it, because sometimes a song is a just a song.
Vybz Kartel's Don't Come Back music single is available on iTunes clicking on the banner on this page.

Watch Vybz Kartel Don't Come Back Official Music Video
real deal