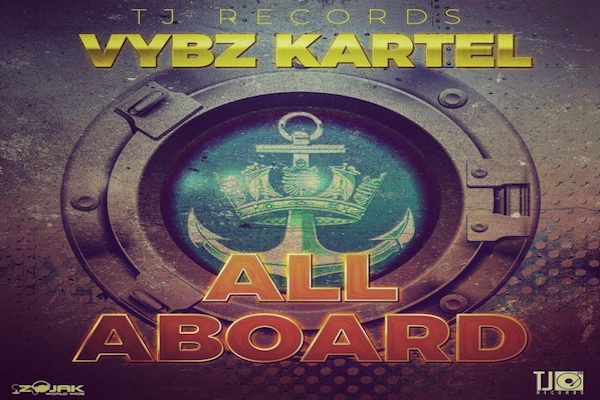 TJ Records and Zojak World Wide present to you, "All Aboard" by Vybz Kartel. The legendary 'King of the Dancehall' is back again with a brand new hit single filled with catchy one liners and pristine production by Dancehall/Reggae's chart topping producer, Linton "TJ" White.
Fans of Jamaican World Boss Vybz Kartel, incarcerated but never silenced, are loving the TJ Records new single "All Aboard".
Gaza Nation fans have been awaiting for the Gaza General's new anthem since Vybz Kartel himself hinted his followers via social networks posting something like 'All Aboard Or Nuthing' in the previous weeks and famed Jamaican music label TJ Records followed, hinting about the song being in the pipeline just few days ago. Earlier this week, it was announced that Kartel's new single All Aboard would have dropped on Irie FM on Friday and DJ Wayne was in fact spinning the new track in heavy rotation all day.
In the new single All Aboard Kartel deejays witty lyrics, going like "Run the boat spring cleaning money move hit season / Honeymoon this even no money marriage a mi dirty habit and me clean," on an hypnotic beat and his fans love the new song, that has been already ranking up more than an hundred thousand replay in a matter of few hours since its release.
Upcoming in next weeks two more official music videos from the jailed Portmore Empire's star: the awaited official music video for Kartel's nuclear success Mhm Hm, which is the most played in Jamaica, together with Pregnant right now, and the music video for Don't Come Back, as well as new catchy song titled "Pretty Brownie" are on the make.
Popular Jamaican dancehall reggae star Vybz Kartel, real name Adidja Azim Palmer, is five months away from his Appeal trial to overturn the harsh sentence of 35 years behind bars without parole, with three co accused, for the murder of Clive Lizard Williams. His legal team is confident of a positive outcome.
Vybz Kartel "All Aboard" is already available on digital platform and you can get it clicking on the Itunes banner on this page.
Listen To Vybz Kartel – All Aboard (Official Audio) TJ Records – October 2017
real deal